Blumaq quality spare parts
Blumaq quality systems
Quality is customer satisfaction
Quality has many meanings and nuances depending on the perspective from which it is analyzed.
For example, from the perspective of value, quality means offering added value; for a production employee, quality means compliance against specifications; and for a customer, quality is simply the tool to evaluate a product as equal, better or worse than others.
Blumaq is convinced that product quality is the main driver to achieve customer satisfaction and, therefore, the only way to sustain a continuous business growth. As a result, it is committed to a large investment in the technical area that leads to what we know today as Blumaq Technical Center.
Blumaq Technical center, our quality control center
Blumaq Technical Center (BTC) is a solid organization composed of an expert team of research, design and development engineers (specialized in the different systems of the machine), a global quality management team, spare parts quality control engineers (inspection) and supplier quality engineers working in the field around the world.
The BTC also has new and independent facilities from the central offices in Spain, facilities devoted exclusively to the technical development of Blumaq, providing the engineering team with the perfect working environment to develop their daily activities, thanks to the metrology laboratory ( equipped with the latest technologies such as 3D laser measurement), the parts analysis area, the test benches, the workshop area and even a photo studio.
Why are we so concerned with the quality in Blumaq?
As seen from any angle, Blumaq has established a new technical standard in the spare parts industry, developing a state-of-the-art technical center that operates as an OEM in terms of quality assurance standards. Its zero-defects strategy is articulated in 3 main principles;
Research, Design and Development:
Definition, inspection and control of each critical specification for 100% of the parts designed and developed by Blumaq.
Validation and inspection of prototypes and 1st production batches as an essential part of the development process of new Blumaq parts.
 Around 1000 new parts developed annually.
Product inspection:
Daily check of 100% of the material received through the Blumaq quality inspection algorithm that identifies and selects the product that needs inspection.
The product selected for inspection flows automatically to the BTC for validation, immediately after receipt.
Only approved material is unblocked in stock minimizing the risks of failure for customers.
Supplier quality management:
Deployment in the field of a worldwide network of supplier quality assurance (SQA) engineers working permanently in America, Europe, Asia and the Middle East. This allows Blumaq to audit and control every detail in direct contact with manufacturers.
BQ3 quality plan; quarterly reviews of quality performance at 3 levels (part level, product family level and supplier level) to ensure that any problem is identified and corrected immediately.
Quality comes from inside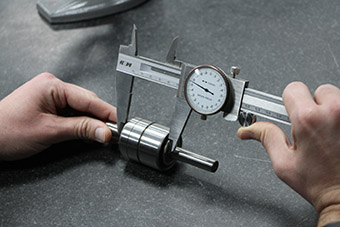 In addition to all the above, in the rare case of a customer problem, Blumaq takes pride in having the best after-sales support system on the international scene. Any possible problem, regardless of its location in the world, is automatically transferred to Blumaq Technical Center engineers through the quality system designed by Blumaq to provide a fast and accurate solution to its customers. This after-sales customer service, specially designed for customer satisfaction, only confirms Blumaq as the world's leading company in terms of quality within the spare parts sector.
Its high technical capabilities and strong commitment to customer satisfaction make Blumaq stand out from its competitors.
After all, quality comes from inside.