Undercarriage Berco
Blumaq hand in hand with the leader in the production of undercarriage systems
Berco has been a benchmark in the production of undercarriage systems for more than 90 years.
Blumaq is authorized distributor of the Berco brand, a leader in the production of undercarriage for earthmoving machinery. The quality of Berco undercarriage systems, together with the coverage offered by Blumaq with a wide range and availability for immediate delivery, ensure a good service and a high profitability for your investment.
Every year Berco processes more than 160.000 tons of steel, manufacturing 200.000 track chains, 1.000.000 rollers and 5.000.000 track shoes. This Berco branded parts are well known all over the world where they stand for reliability.
Innovative technology, comprehensive know-how and leading-edge manufacturing guarantee the overall quality of the products offered by Blumaq.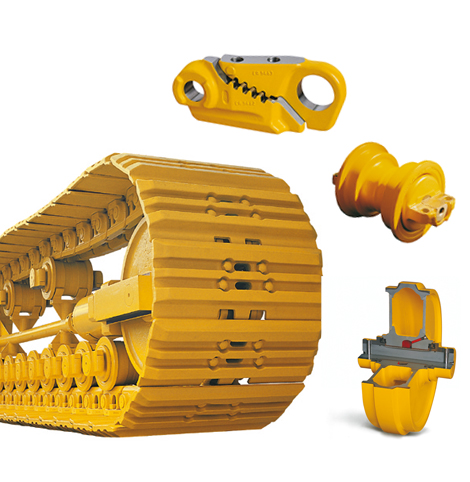 Research and development are main components in the activities of Berco.
Berco's leadership in the undercarriage market is the result of meticulous research for the excellence from design to production and delivery. This is an added value for Blumaq.
Research and development are main components in the activities of the brand and have played a key role in consolidating their position in the market. An efficient and innovative technology able to extend the average life of the components, reduce the operation costs and guide commercial activities towards the improvement of products and processes.
Berco dedicates great efforts to the development of new materials and to the adjustment of the heat treatment processes in order to guarantee premium long-lasting products. These treatment processes guarantee high quality products with excellent wear resistance in every condition and operation.
For all this reliability and quality specifications, Blumaq is committed to this alliance with the German brand, thus offering all our customers, the quality in the undercarriage systems for earth moving equipment.