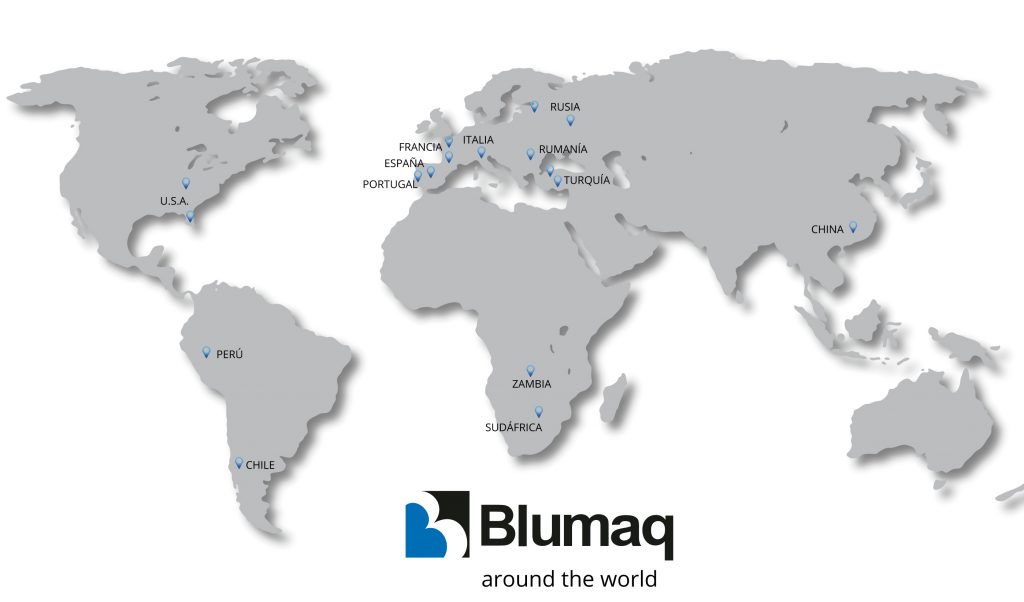 BLUMAQ SUBSIDIARIES
Blumaq offers worldwide coverage through our subsidiaries, thanks to our presence in more than 12 countries
Our distribution network in more than 168 countries, we are able to offer delivery times on all our Blumaq spare parts of 24h in Europe and 48h worldwide, always with the Blumaq Quality.
Blumaq quality worldwide
The quality in the service, in the spare parts and, above all, in the guarantee we offer, positions us as the company with the largest capacity and projection within our sector. The capacity of having more than 90.000 item numbers in stock for immediate delivery and the projection of been a company with an objective associated with good service, the maximum quality in all its parts.
For Blumaq, it is very important to give a quality guarantee in its spare parts, we carry out the same quality processes as an OEM part, so our customers know they are buying the highest quality part they can find in the market, at the most competitive price and with the best and quickest service.
BTC, Technical support for each subsidiary
In Blumaq we like our work and we are expert in each one of our areas, so we are committed to offer the best support to our customers, whatever the subsidiary, all the enquiries are centralized in our BTC (Blumaq Technical Center) where an expert engineering team, guarantee and verify the quality in the production of each one of our parts, as well as give support to our subsidiaries all around the world if necessary.
We are aware of the importance of offering a good after-sales service, because we believe that our customer deserves all the attention, in Blumaq we make sure that you can find, in the same company, all the services you may need, from an expert commercial team that will advise in the search of the ideal part for each repair, until an excellent delivery service, through a Technical Center that gives support to every enquiry and ensures the quality of all our parts.

Fastest delivery service in the market
Blumaq knows the importance of speed in a repair, we know that every second counts, so we have the best agreements with the main transport companies, allowing us to arrive before any other competitor to deliver your spare part on time, always with the guarantee and quality that Blumaq offers to its customers.
A worldwide stock system
Why can Blumaq offer you the spare part you need all over the world before any other company? It is very simple, because through our extensive distributed inventory network, as well in our headquarters in Spain as in every one of our subsidiaries, we can guarantee that a large number of references are in stock in any one of our subsidiaries, thus improving delivery times.
Blumaq is all over the world, because we have the part you need and we are able to deliver it to you before any other company, Blumaq is synonymous with quality.