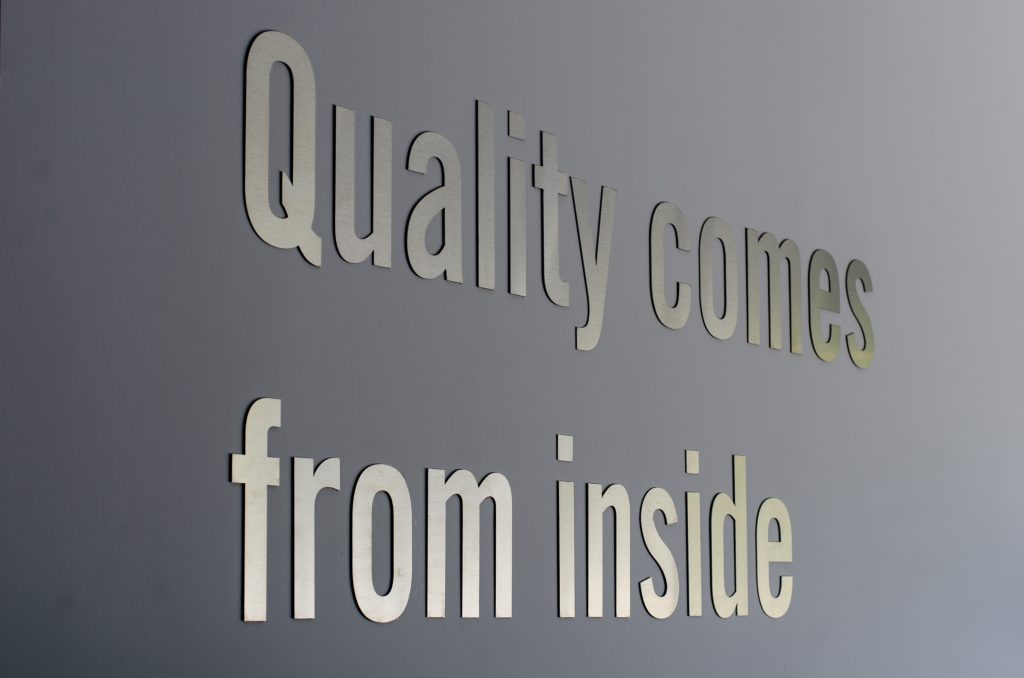 Blumaq Quality
What is quality?
Quality has many meanings and nuances depending on the perspective from which it is analyzed. For example, from the perspective of value, quality means offering an added value; for a production plant officer, quality means conformity against specifications; and for a customer, quality is simply the tool to appreciate a product as equal, better or worse than others. As we can see, quality is a very broad concept, however, we all have a very clear image about the meaning of the term "Quality". It was William E. Deming (the father of modern quality management strategies) who, in my opinion, synthesized the best definition for the term "Quality": "Quality is customer satisfaction". No more, no less.
Blumaq truly believes in product quality being the main driver to achieve customer satisfaction and therefore the only path to sustain Blumaq continuous growth. As a result, high investment is placed on the technical area, resulting in what today is the Blumaq Technical Center.
The Blumaq Technical Center (BTC) is a strong organization composed by an expert team of design & development engineers (each of them specialized for each machine system), global quality management team, part quality assurance (inspection) engineers and Suppliers Quality Assurance engineers working permanently in the field around the world. The BTC also counts on its independent and brand-new facilities in Blumaq Head-Quarters (Spain) providing Blumaq engineering team the perfect working environment to develop their daily activities, thanks to the metrology lab (equipped with cutting edge technology like 3D measuring laser scan), the part analysis area, the test benches, the workshop area and even a photographic studio.
By all means, Blumaq has established a new technical standard in the aftermarket industry developing a state of art technical center that operates as an OEM in terms of quality assurance standards. Its zero-defect strategy is articulated over 3 main pillars;
Design & Development:
– Definition, inspection & control of every critical specification for 100% Blumaq designed parts.
– Quality validation of prototypes & 1ST production batch as an integral part of Blumaq new part development process.
– Around 1000 new developed parts annually.
Product Inspection:
– 100% income material daily checked by a Blumaq Quality inspection algorithm which identifies and segregates product that needs inspection.
– Product separated for inspection flows automatically into the BTC for its validation test right after reception.
– Only approved material gets unlocked into stock, minimizing risks of failure for customers.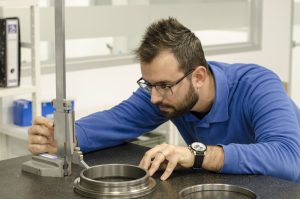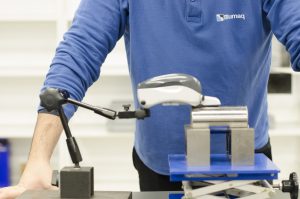 Supplier Quality Management:
– A world-wide net of Supplier Quality Assurance (SQA) engineers is deployed in field working permanently in America, Europe, Asia & Middle East. This allows Blumaq to audit & control every detail in direct contact with Blumaq manufacturers.
– BQ3 Quality plan; 3-Monthly quality performance reviews at 3 levels (part level, product family level & supplier level) to secure that any problem is identified and corrected immediately.
On top of that, in the rare case that a problem arises on the customer side, Blumaq is proud to have the best-in-class after-sales support system. Any possible problem, no matter its location around the globe, will be automatically transferred to Blumaq Technical Center engineers through Blumaq own-designed quality system in order to provide a fast & accurate solution to Blumaq customers. This specially designed after-sales customer support does no more than to confirm Blumaq as the world leading quality aftermarket parts supplier by its unparalleled technical capabilities and by its strong commitment with customer satisfaction.
After all, Quality comes from inside.