Spare parts suitable for:
VOLVO     CUMMINS    CATERPILLAR    CASE    KOMATSU
Heavy machinery undercarriage
There is no force without good grip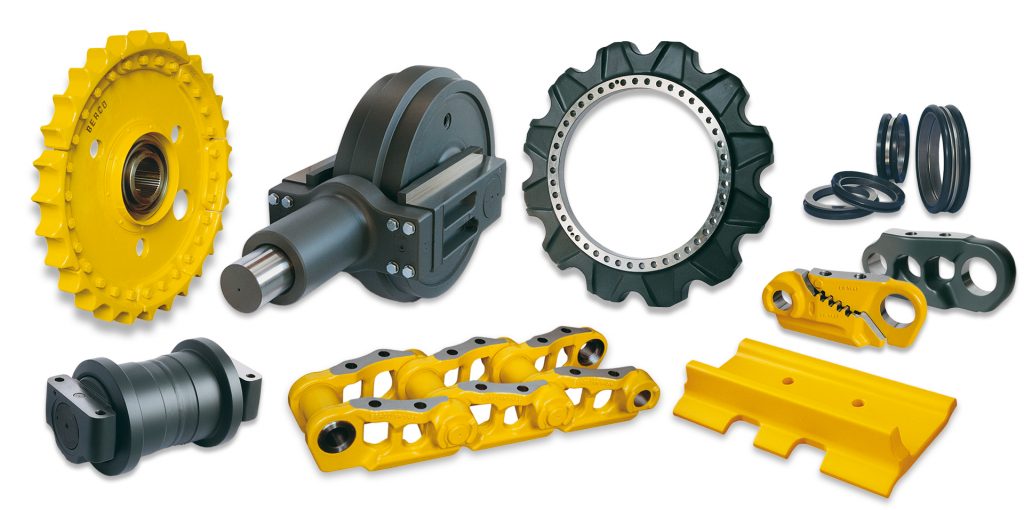 Blumaq commercializes Berco heavy machinery undercarriage components, as an authorized distributor for Spain, Turkey, South Africa, Namibia, Zambia and Indonesia. This allows us not only to offer our customers the best quality heavy machinery undercarriage components on the market, but also the delivery service and quality guarantee that Blumaq offers to all our subsidiaries.
Essential elements for the correct functioning of your equipment. Calibrated parts with the latest technology. Blumaq is always in the forefront of the latest development.
In this page we show only an overview of the parts in this family. Blumaq has all the parts for the operation of your machine. For any information, please consult our technical service or your sales rep.


Undercarriage components from the main, world-leading manufacturer, with the technical coverage and  most extensive guarantee in the market, assuring high confidence.
Specific products for tractors and excavators, technically designed for maximum performance.
The quality of Berco undercarriage, together with the coverage off ered by Blumaq ensures a good service and a high profi tability of your investment.
State-of-the-art technology, quality and extensive know-how in the development and manufacture of each Berco product.
Drive sprockets:
Every year Berco produces over 140.000 drive sprockets, sprocket rims and segment groups, with a total weight of over 10.000 tons.
Blumaq offers more than 600 different designs
Both cast and hot-forged sprockets are produced via induction-hardened over the full tooth profile. Then they are processed and drilled in machining centers on CNC machines. All of this is done to extend service life and keep maintenance efforts and expenses low.
Blumaq offers more than 600 different designs of drive sprockets, sprocket rims and segment groups, both for bulldozers and excavators from 1 to 330 tons.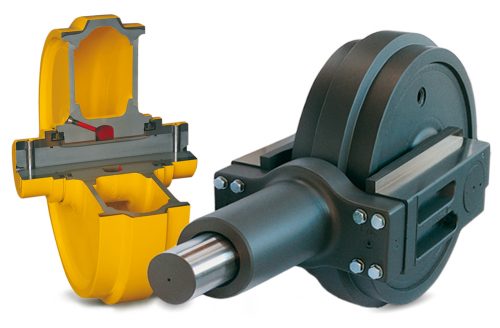 Track shoes:
Extreme applications, such as those often required in the mining industry, require specially forged track shoes. They need high bending and breaking strength, maximum wear resistance and toughness to guarantee long service life. For this reason, Berco track shoes are through-hardened and stress-free annealed.
Blumaq offers track shoes for bulldozers and excavators
With chain pitches up to 317.5 mm and track shoes for large excavators with chain pitches up to 350 mm. Over 70 different sections with 1, 2 and 3 grousers and a large selection of track shoe designs with different lengths and mounting surfaces. Angular and tapered grousers, forged track shoes for special applications such as mining.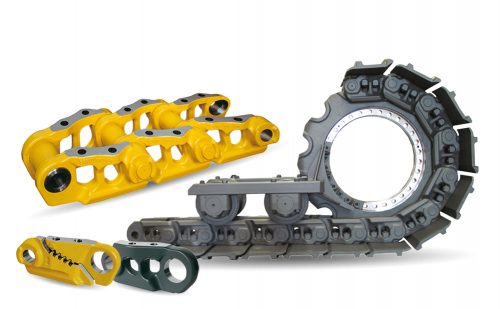 Rollers:
Through-hardened or surface-hardened roller shell bodies increase wear resistance and ensure high structural strength and resistance to deformation. Seals guarantee permanent lubrication for optimum durability.
More than 1.500 different rollers
Blumaq offers single-flange, double-flange and inner flange rollers for all types of equipment and applications, including bulldozers and excavators weighing 1 to 330 tons. In addition, versions for extremely cold temperatures (-50°C/-58°F) are available. Rollers include other quality components such as hubs, collars, bimetal bushings, shafts, and high-performance seals.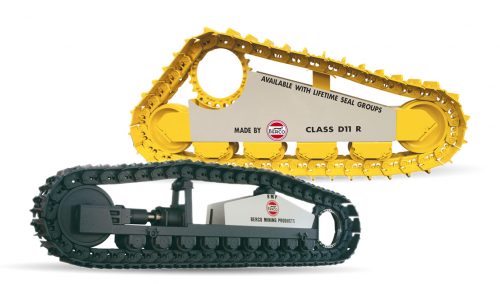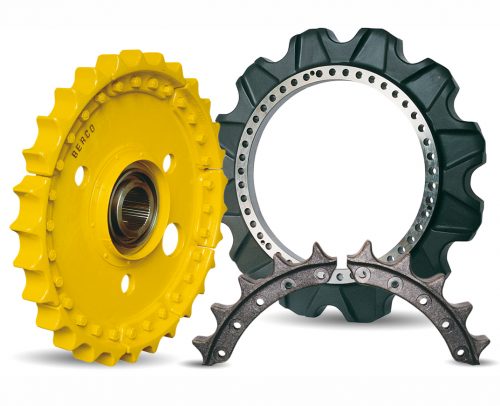 Idlers:
The wear resistance of idlers is particularly important. Whether cast, forged or welded idlers, Blumaq offers more than 500 different sizes, both for bulldozers and excavators. Even for tracked vehicles from 1 to 330 tons, including versions for extremely cold temperatures (-50 °C/-58 °F).
Improved structural strength
Berco idlers offer improved structural strength and optimal alignment to ensure permanent lubrication, which reduces operating and maintenance costs.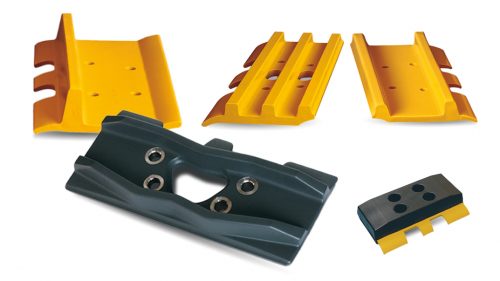 Track chains for bulldozers and excavators:
No matter what size, or in which machine they are used, heavy-duty chains, greased chains and oil-lubricated chains need to be especially robust, durable and easy to maintain because they are most often used where the ground is uneven, rocky and loose. For this reason, Berco places great emphasis on quality in the production of its track chains.
Extremely wear-resistant bushings
Blumaq provides all Berco chains, which are specially developed for the increased durability of pins and bushings.
We also offer heavy-duty chains with extremely wear-resistant bushings for maximum service life in applications with intense abrasion. Available for XR, XL and LGP undercarriages and for bulldozers and tracked loaders.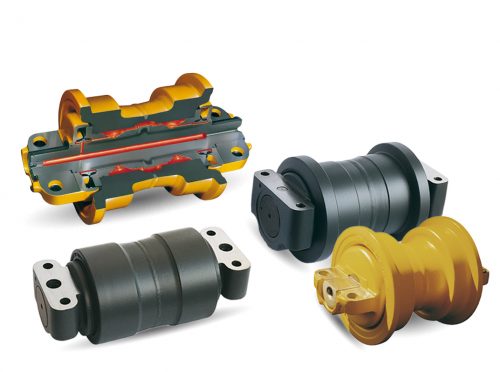 Complete undercarriages:
In addition to the production of individual undercarriage components, Blumaq provides fully assembled Berco undercarriage systems, ready for installation. The product spectrum ranges from the smallest track units from mini excavators to undercarriages for rock drilling machines and excavators.
Ready for installation
For special applications, working with our customers we develop solutions, that are optimized and tailor- made for their respective needs.
To receive more information about this product, fill out the form below: