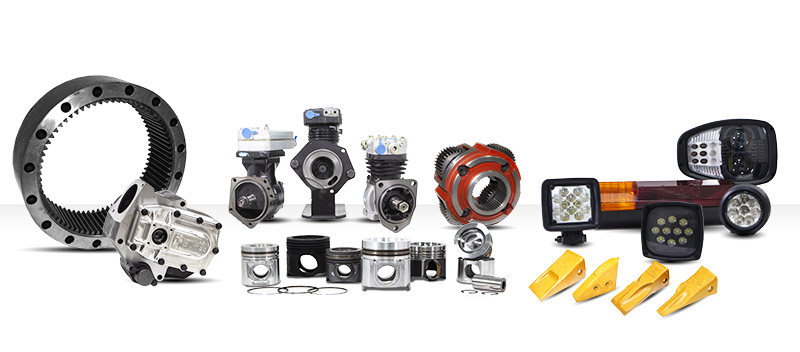 Blumaq offers his alternative spare parts for Volvo
Blumaq offers alternative spare parts for Volvo applications
Our extensive stock of more than 90,000 references for immediate shipment positions us as the best and fastest option in the market.
Volvo Construction Equipment has been considered for many years one of the leading companies in the construction and mining sector. Since it was founded in 1832, Volvo machines is a reference for the industry. In Blumaq we have been offering alternative spare parts from our own brand for Volvo machinery for more than 25 years, always under the quality guarantee offered by Blumaq

Your Blumaq spare parts in less than 48h worldwide
In our warehouses, we have more than 90,000 references of spare parts and components in stock so that you can find the alternative spare part for Volvo machinery you need.
Thanks to our extensive network of subsidiaries, we get your parts to their destination in a shorter time than the OEM brands. This efficient shipping means that your machine is down less time and can be up and running within a maximum of 48 hours from the day of shipment.
Our great strength is stock management and efficient logistics.
Our efficiency doesn't just come from shipping. One of Blumaq's greatest strengths is logistics and stock management. We have an automated inventory system that allows us to know the location of the Volvo-compatible alternative part or spare part that the customer demands from us, from the time the order is placed until the component reaches its final recipient. In addition, in each of our warehouses we have a system of triple review of products, so we ensure that the replacements, spare parts or components that are shipped, are exactly what our customers have ordered.
The tranquility and trust of our customers is a very important aspect for us.
The market is evolving and our customers needs are becoming more and more demanding.  Blumaq is at the forefront of its sector due to the entrepreneurial nature of the company, which has allowed us to have subsidiaries in 15 different countries and to be present in more than 160 countries in just 27 years. This international presence allows us to be very close to our customers in order to know what their requirements and needs are in order to be able to solve them. That's why we offer a customer service so that you can purchase your alternative parts for Volvo directly and personally, with 24-hour technical assistance. Our qualified technical team is in charge of resolving any doubts or incidents that may arise at any time.
Your Blumaq alternative part for Volvo with maximum quality guarantees
Our Technical Center has developed a reverse technology system with which we design our alternative spare parts for Volvo machinery with the same chemical composition as the OEM brand spare part. In addition, this process allows us to adapt to market developments by creating more than 1000 new references per year.
We are well aware of the specific needs that work in this sector, so our main objective is the ultimate satisfaction of our customers.
VOLVO® is a trade brand registered by its owner and is only used for reference purpose of the application of our spare parts.