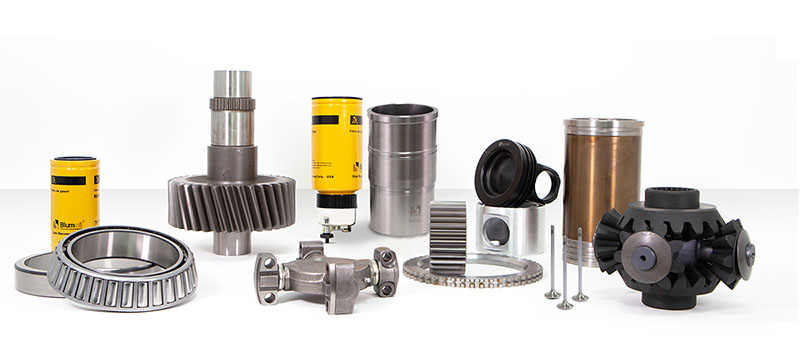 Blumaq offers his alternative spare parts for Caterpillar
Blumaq offers its alternative spare parts for Caterpillar machinery
With over 90,000 parts in stock for immediate shipment, we make sure the component or alternative spare part Blumaq for Caterpillar you need.
Blumaq has consolidated over the years as one of the world's largest suppliers of alternative spare parts for public works and earthmoving machinery. With more than three million parts supplied annually and more than ninety thousand references in stock, Blumaq has the alternative spare part for Caterpillar that you need.

Get your Blumaq alternative refill in record time
With our express delivery service, your Caterpillar compatible Blumaq spare part will be ready for assembly in record time, so your machine will be down for the shortest possible time. If the shipment is to European territory, in 24h you will have your spare part and 48h worldwide.
Our great strength is the stock management and efficient logistic system
The correct stock management is one of Blumaq's main premises. It is a meticulous and fundamental process for the correct functioning of the logistics process.
We have a triple product confirmation system, with which we check that the product being sent is exactly what the customer has requested, avoiding errors in shipments and deliveries.
We also provide a tracking of the product to our customers so that they can locate and be informed of the status of its spare part in real time, as well as the approximate time of arrival at its destination, the traceability of each piece is absolute.
Blumaq is in continuous expansion
Our 27 years of continuous growth have led to a very powerful international expansion, with which we can be closer to our international customers. We have subsidiaries in 15 countries and delegations all over Spain to be able to know first hand the situations of the different markets and be able to solve any problem or urgent request of our customers. Whatever the problem with your Caterpillar machinery, Blumaq's technical service works exhaustively to provide real solutions.
Blumaq, moving the world.
To receive more information on spare parts suitable for Caterpillar, fill out the following form:
CATERPILLAR® is a trade brand registered by its owner and is only used for reference purpose of the application of our spare parts.